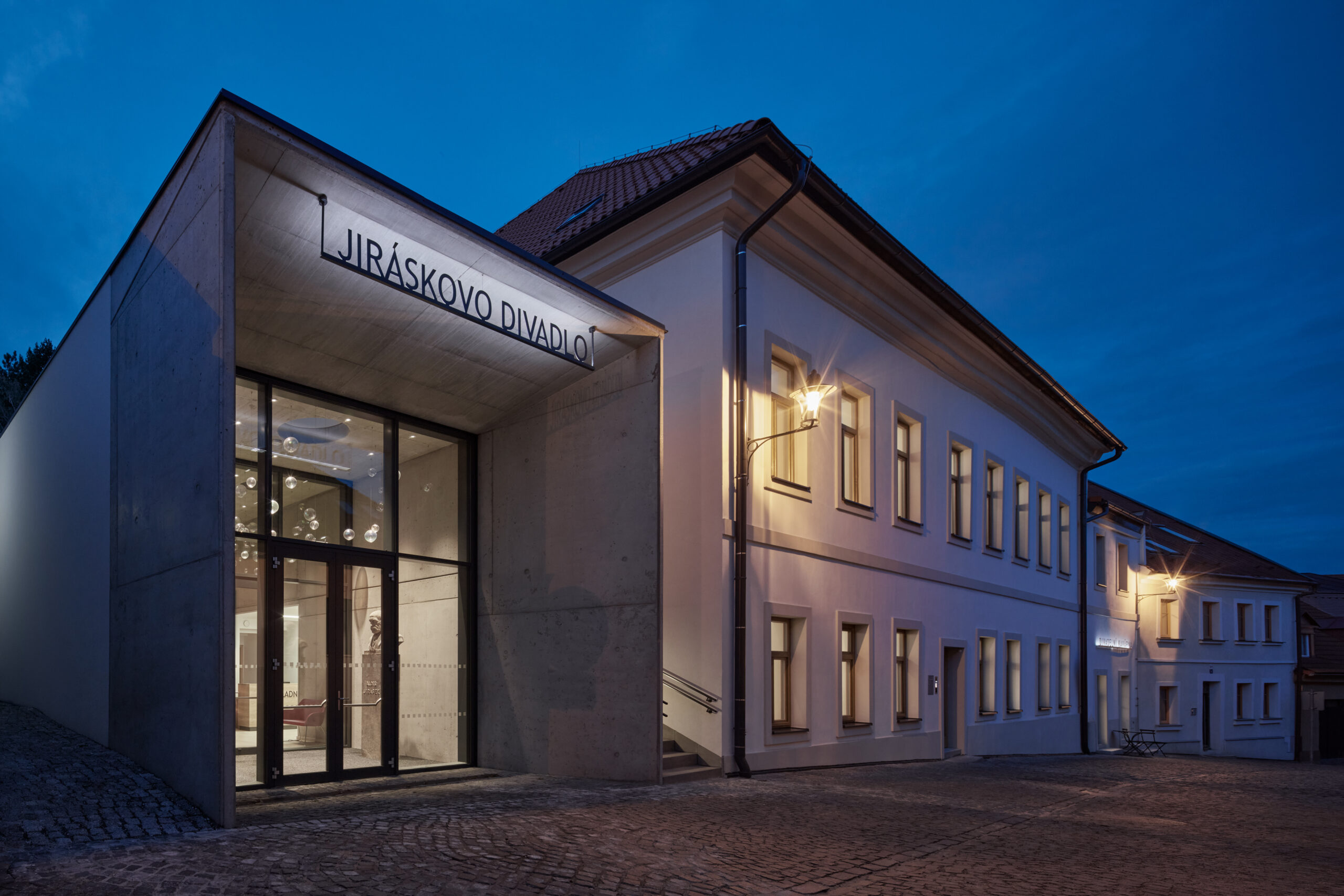 Reconstruction of the Jirásek Theatre in Česká Lípa
2023
Construction volume 13 625 m³
Net floor area 2 406 m²
Historie budovy Jiráskova divadla sahá daleko do minulosti. Archeologické nálezy z místa odkazují až na dobu středověku. Známá je však její historie až z počátku minulého století, kdy sloužila jako městská tělocvična. Divadelní provoz v budově byl zahájen v roce 1932. Na konci II. světové války se z budovy dočasně stala ubytovna pro uprchlíky. V současné době je objekt pod správou města a opět slouží jako divadlo.
Due to its poor condition, the theatre needed to be reconstructed to restore its attractiveness and functionality. It is a protected building. It was therefore necessary to approach the reconstruction sensitively and to respect all restrictions. The architectural design combines the historic appearance of the building with a new modern entrance. The aim is to create a representative building with modern facilities that respect and enhance the beauty of the historic character of the building.
Za účelem navýšení kapacity divadla byla zvýšena střecha sálu o jedno podlaží a tak mohl přibýt jeden balkón. Kapacita sálu po rekonstrukci je 371 osob. V přízemí čtyřpodlažního objektu se nachází divadelní kavárna a technické zázemí divadla. V dalších podlažích jsou umístěny šatny herců a zkušebny. Ve třetím podlaží je navržen multifunkční sál umožňující pořádat program pro školy a menší skupiny lidí.
The main entrance from Panská Street leads to a two-storey foyer dominated by a spiral staircase. In the entrance area and in the foyer there is a work of art by the glass studio of Jitka Skuhrava. The side entrance from Jiráskova Street also consists of a combination of exposed concrete and large glass surfaces. During the construction, a staircase to the cellar was discovered and the salvaged stone steps from the staircase in the demolished extension were used to restore it. The original wooden ceiling beams were cleaned, painted and now form the ceiling structure above the upper foyer.