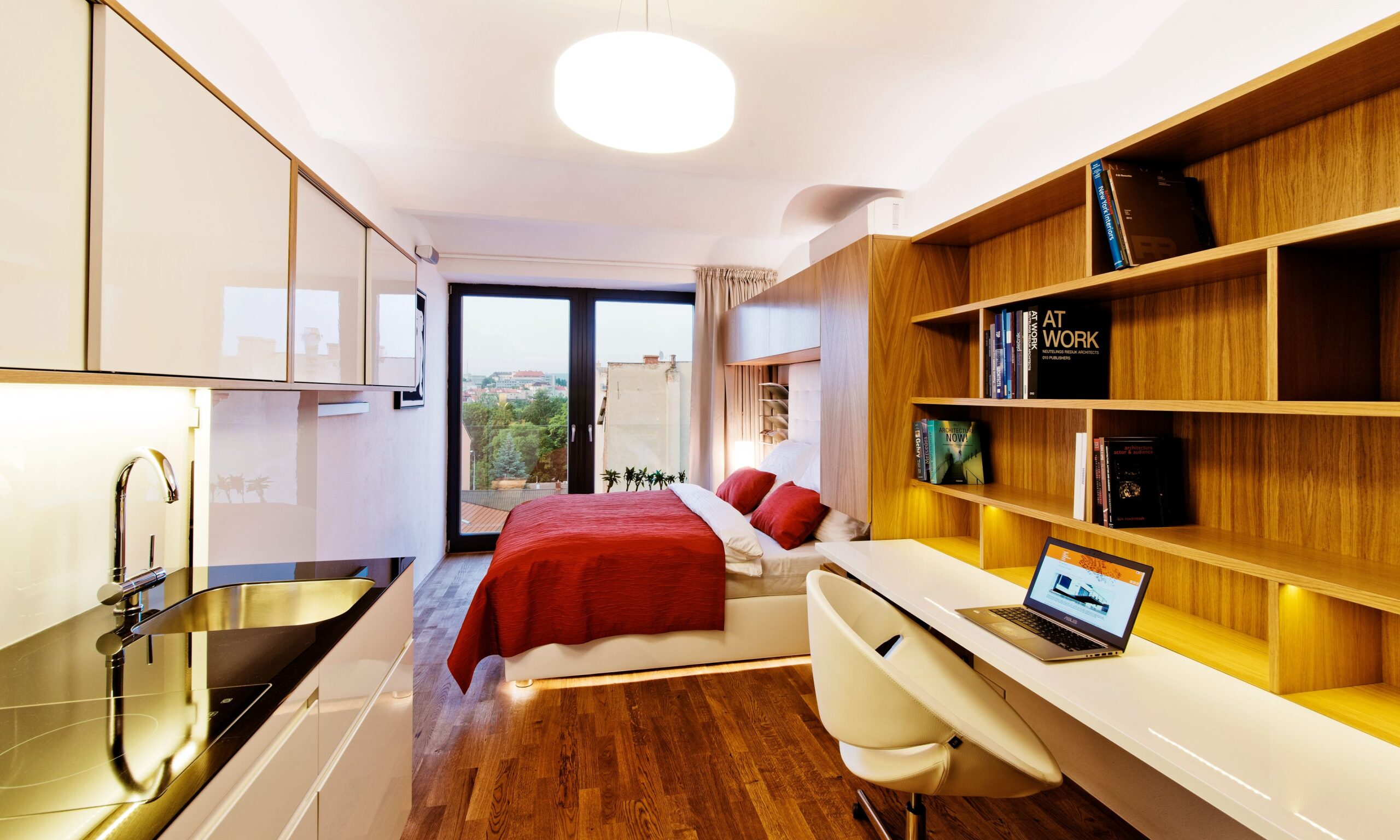 The apartment itself is very functionalistically furnished. Every detail has been thought out in the limited space of 21 m2. That is why, for example, the shower separated by milk glass also serves as a hallway lighting. The siphon in the cabinet under the washbasin had to be cut into the wall so that it would not unnecessarily take up storage space in the cabinet, where the inhabitants can otherwise store all sorts of small items. The work table is hinged and the armchairs are adjustable so that they can be used for dining, working and resting. Despite the necessary space savings, however, the apartment also accommodates a guest room. Created under the sloping roof, it is really just for sleeping and just enough for one person.
Reconstruction of the laundry also meant a complete insulation, demolition of the front wall, installation of a glass wall, a roof window, a new front door, walling of new partitions, tiles, floor tiles, oak floors, cleaning original brick walls, installation of a stove, installations, electricity, water, waste, new plaster, installation of heat pumps air/air, air conditioning, underfloor heating, TV, internet and installation of a sanitary equipment. Delivery of furniture consisted of the delivery of atypical furniture customized in design combining oak veneered panels, white lacquered parts, a black colored MDF board, a characteristic furniture from ecological leather. Lights are mostly in a form of LED strips. There is also high tech audio/video.
An important aspect of this project is the environmental friendliness, sustainability and independence of the Living Showroom from not only energy, but also water sources. Living Showroom in Brno has its own stove and well, so the comfort of the residents is ensured even in the event of a power failure.