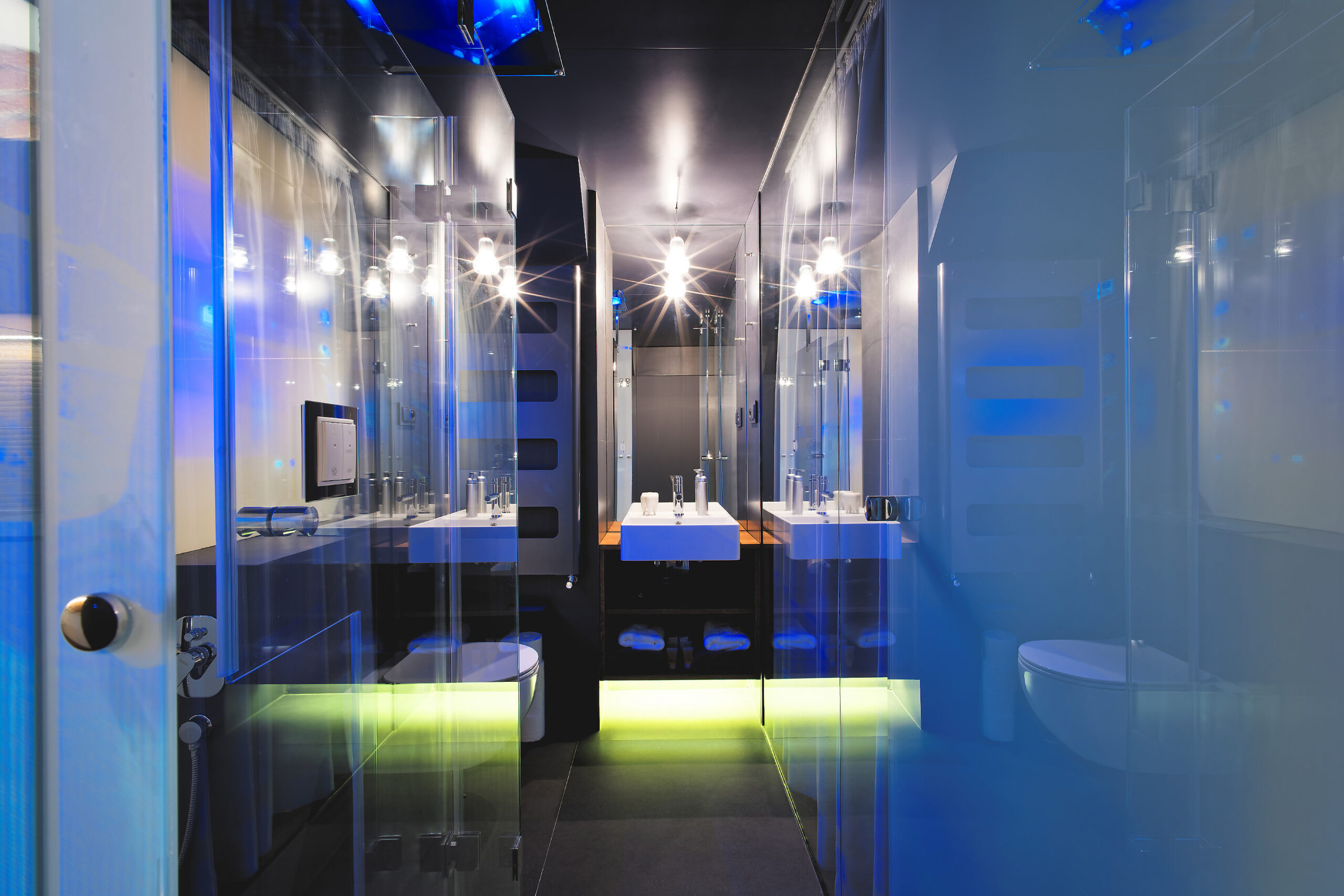 Apartment house is located on the corner of Jakubska and Rybna streets in the historic center of Prague, 3 minutes walk away from Old Town Square. The building is dated back to the late 16th century, it hides in its center a courtyard with mature tree accessible trough an inconspicious passageway from Jakubské street. Galleries lined courtyard are open towards to the church of St. James the Greater, consequently in a quiet part of the block. Living showroom is directly accessible from this inner space through a rising block of vestibule. The open courtyard and quiet Rybná Street, the connection of these spaces, the illumination and opening of the whole unit is achieved by the glass block of the bathroom forming more than just another room, but an artistic element that does not disturb the combination of modern architecture and historical space.
In the space, there are two main rooms. The first one is primarily used as a living room and dining room with kitchenette fitting into the niche. This space can easily be transformed into a place for presentations, thanks to the variable desk into a study, but also into a second bedroom. The second room serves as a spacious bedroom with a study area.
The interior combines natural and rough materials with modern purity. Wooden elements together with visible brick constructions are in direct contrast with the anthracite central portal and glossy white surfaces of furniture. Storage, installation, everything is hidden and everything uses every curve and corner, which this atypical space offer.
Thanks to the purity of space you will be surprised that everything is interwoven with a central system controlling the entire unit from the lights to the multimedia surfaces and audio system. Ambient indirect lighting adds to the unforgettable impression.