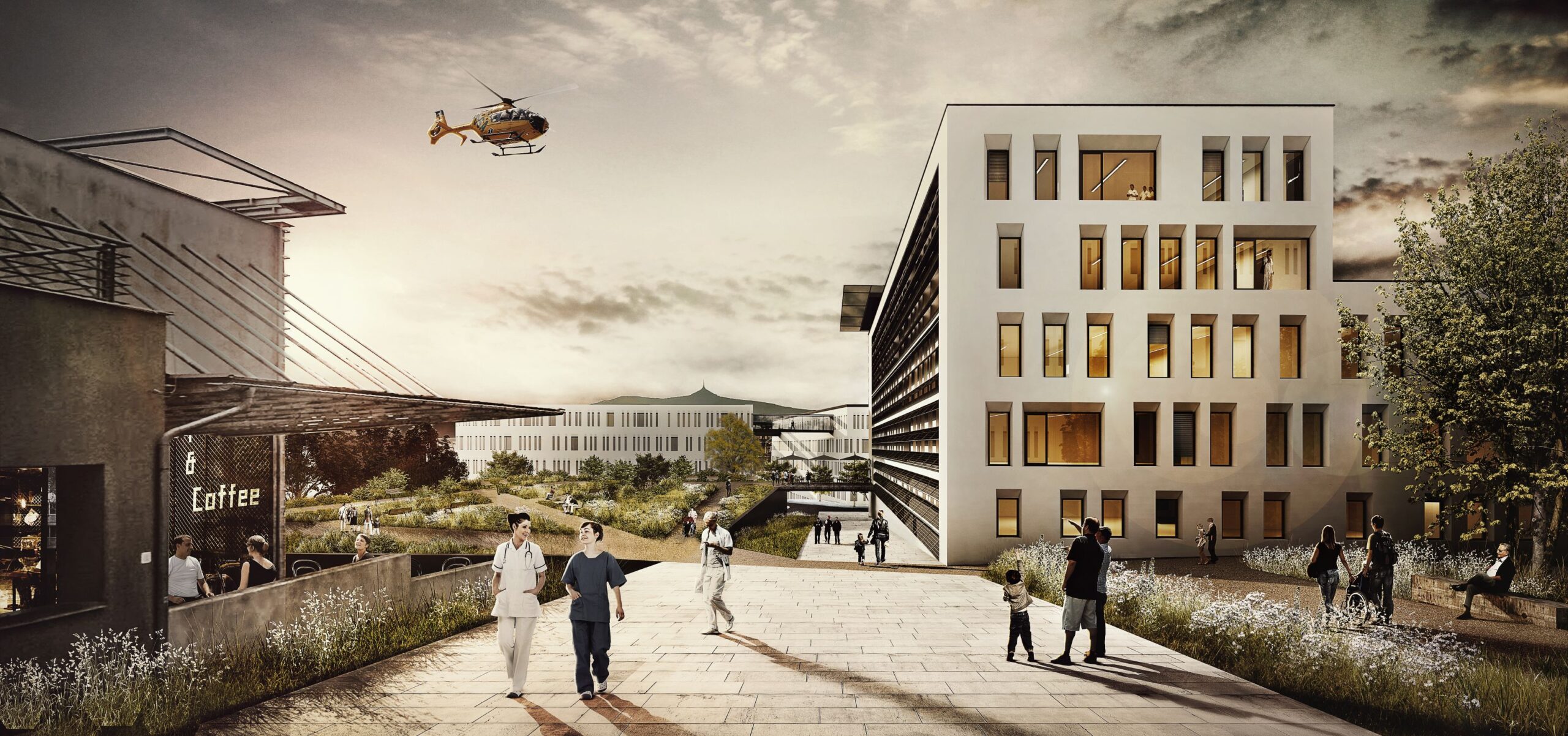 2017
architectural competition, design
The concept of the urban planning solution is based on the growth of the surrounding neighborhoods into the hospital area. From the northwest, a new block structure of buildings complements the area defined by Husova, Jablonecká and Kristiánova streets. This block is crossed by two streets perpendicular to Kristiánova. The first is U Novostavby street and the second is the newly created street connecting Jablonecká and Kristiánova in the places of the rear tract of the aftercare pavilion (building D). The upper eastern part of the area is an organic part of the structure of the residential district, the essential scar of which is the elevated pavilion of internal disciplines. Building B is already at the end of the life of the TZB and its structural heights do not meet the requirements of modern hospital operations. In the long-term vision proposal, we are removing it in the last fifth stage. Extensive green courtyards connect to the campus from the southwest, represented by the Gutenberg park and the garden with tennis courts. In the southern part of the area, low parking buildings semi-embedded in the terrain and covered by residential gardens are designed. Urbanistically, the area merges with the city, in the east it blends with the residential district, in the north and west along Husovy, Kristiánov and Jablonecká streets it honors the street front. We assume hospital operation only in the inner area, the buildings outside will be reserved for other purposes (e.g. accommodation for doctors) or sold. The area is connected by a system of above-ground glass tubes. 
The building of the Centre of Emergency Medicine consists of one building in a compact shape of a city block. A system of internal atriums on several levels ensures sufficient daylight. The facades are pure white. The white colour evokes purity and reflects light well. The window openings are mostly vertically oriented, their positioning along the façade is functional in relation to the layout. The sloping lintels and jambs let in more daylight. The southern façades are fitted with photovoltaic slats to reduce energy consumption and protect against helicopter noise.